ΑΓΆΠΗ - AGAPE
The Greek word Agape embodies what it means to experience the deepest form of love. 
Agape is the purest love that two people can experience.
Agape is a deep bonding of the souls, a bond that can't be explained with an earthly language. 
Agape is a strong feeling of sustained joy within your being. 
Agape is the soul recognizing another soul. Passionately and whole heartedly wanting the other person to thrive, with no conditions. 
Agape is the spiritual, emotional, psychical, and mental bond that two people have for each other. A bond that is far deeper than what words can describe.
Agape describes the deep sacrificial love that God has for us all. 
"Agape" is one of seven words in the Greek Language that translates to LOVE. 
The other six words are Philia, Storge, Eros, Pragma and Mania and Ludus.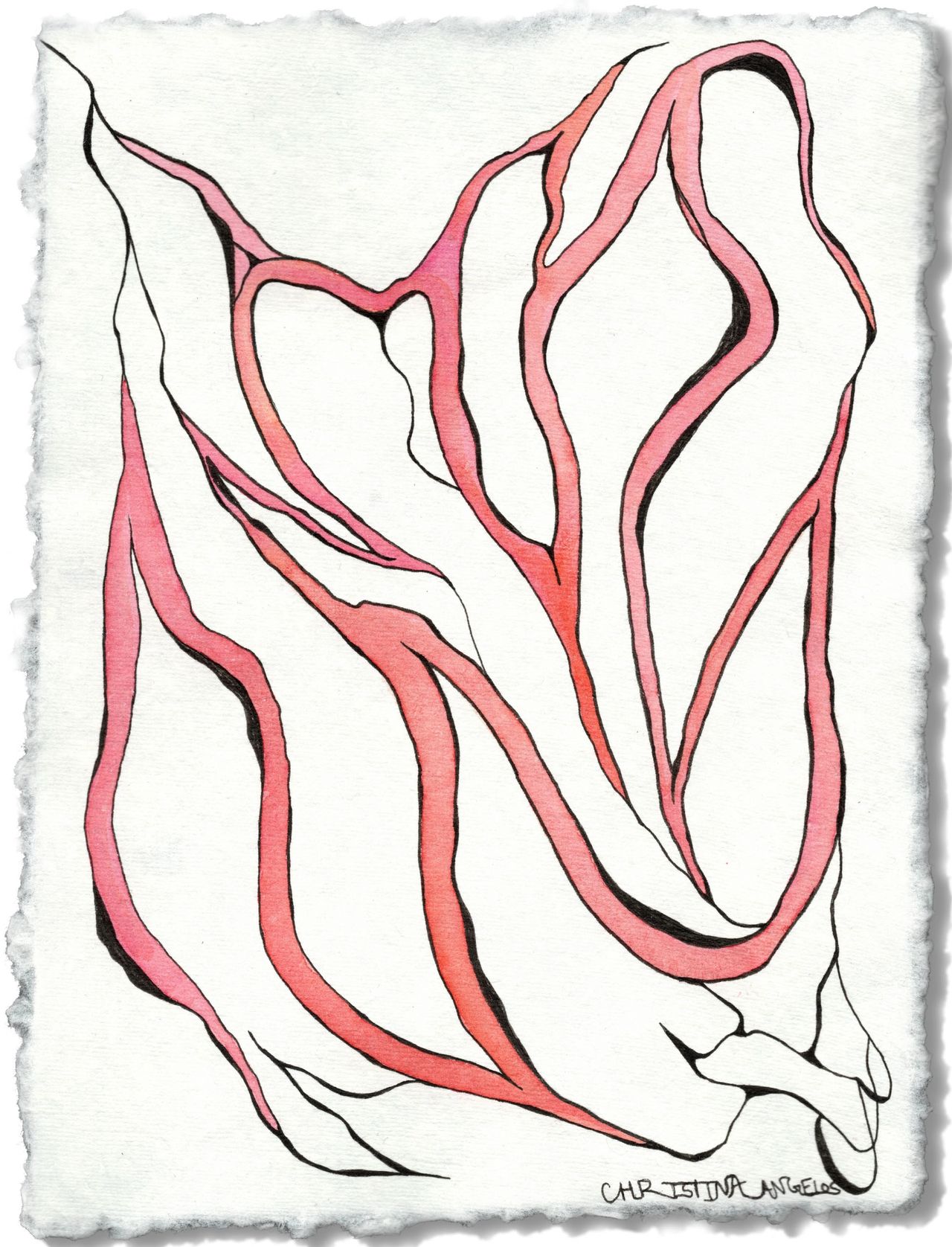 Philia describes the bound of true friendship. 
A true friendship is a when two people bond over similar passions and interests. 
When two good whole hearted souls, come together in harmony and help each other flourish as individuals. 
Storge describes the familial bonding of love. The love a mother has for her child. The affection and care a grandmother gives to her grandchild. Storge is the bonding of two siblings.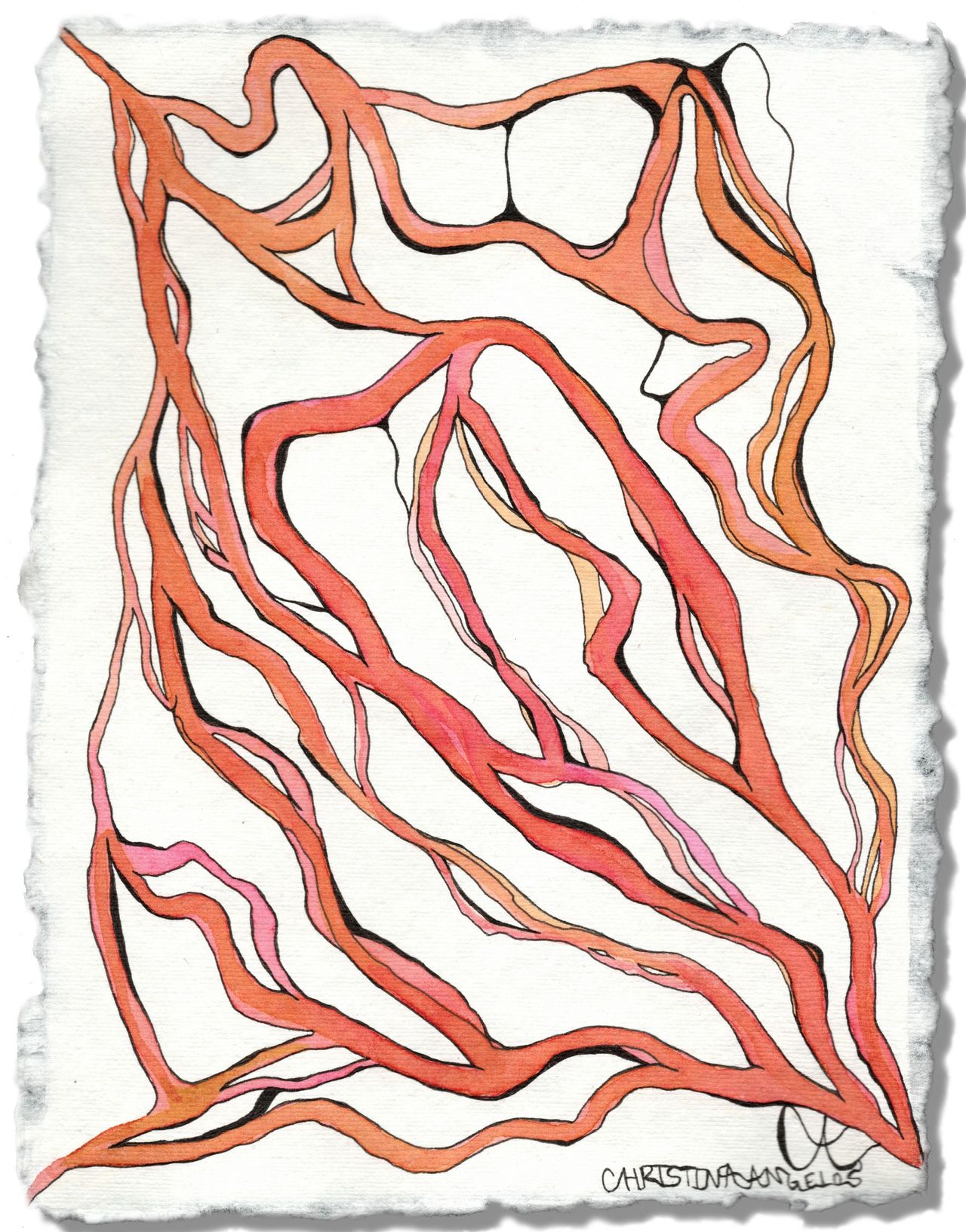 Eros describes the passion and affection between two people. 
Eros is the physical magnetic sensation two souls have for each other. Not to be confused with sexual lust, eros describes the deepest form of intimacy.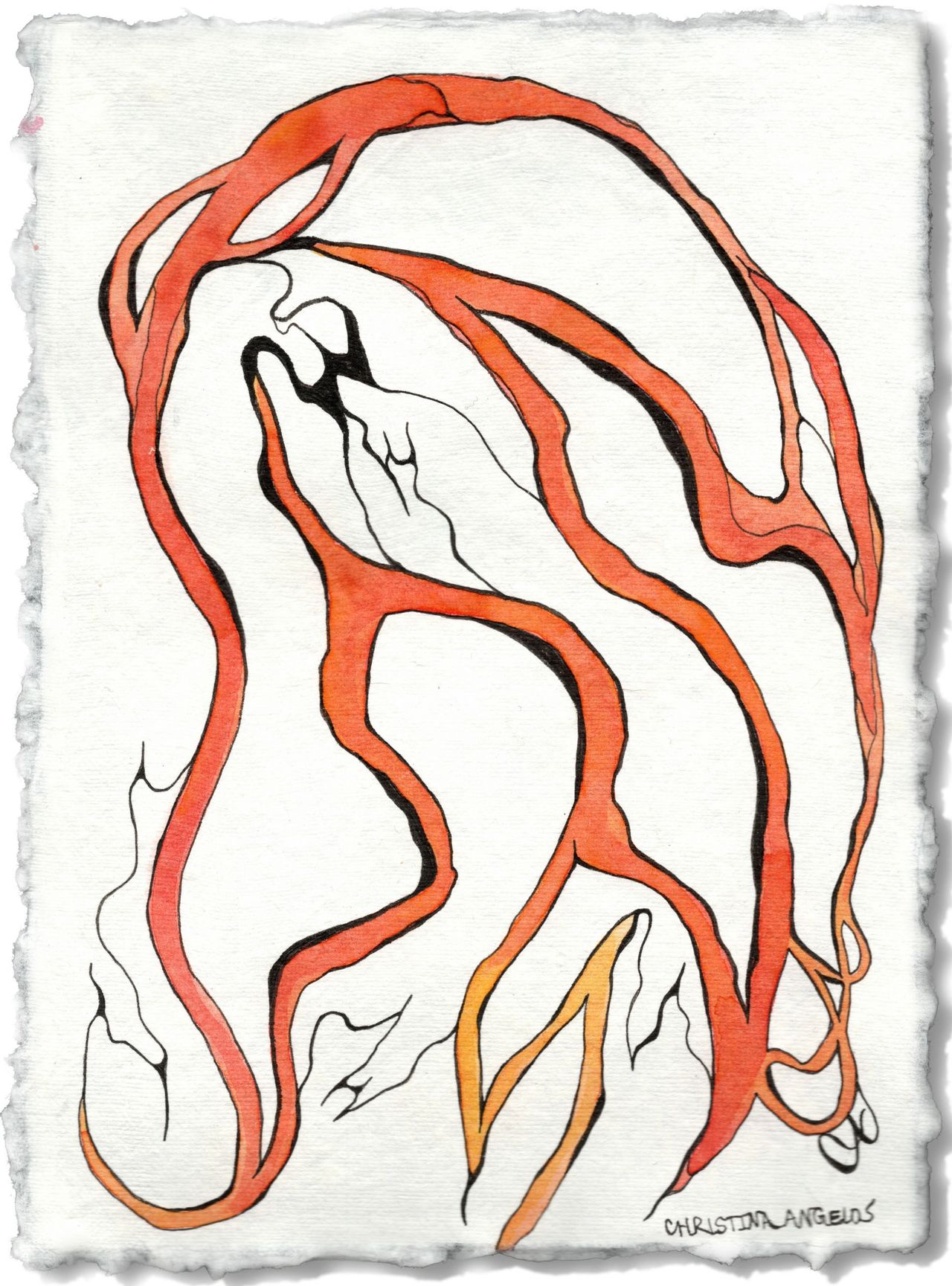 Pragma describes a rational lover. This type of love starts out of convenience and practicality. These lovers are together because it benefits both parties in a logical way. Even though two people can be joined through pragma, their logical relationship can quickly turn into friendship, and eventually will evolve into true Agape. Pragma is a mature type of love that grows better with age, like a fine wine.
Mania describes an obsessive type of love. When two people are overly enthralled with each other. 
Ludus describes an unemotional lover. This type of lover views love as game, rather than a life long intimate relationship with just one person. A Ludus lover will change partners often and not grow an emotional attachment in order to guard their heart from getting hurt.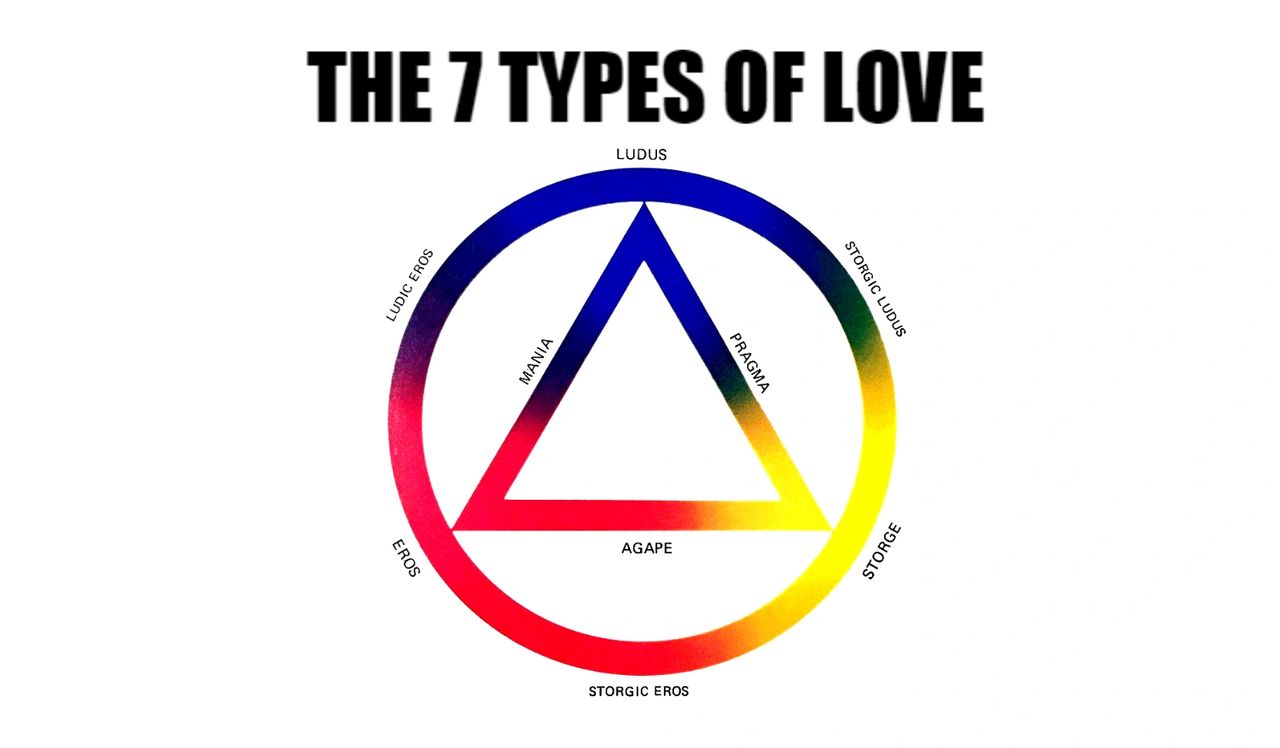 Psychologist John Alan Lee wrote the book, "Colours of love: An exploration of the ways of loving " in 1973. He also came up with the "color wheel of love" as seen above. This is a great visual for us to visually see the seven forms of love, and how they can be combined in different ways. 
Only possessing one style of love in the outer ring is not enough to sustain a life long happy and healthy relationship. Each style of love cannot stand on its own. 
The bottom half of the triangle is what we should all be striving towards, a combination of eros (passion) and storage (friendship) is what creates a long lasting true agape.   
Throughout my own life, I have been fortunate enough to experience the meaning of true Agape through my relationships with the amazing people in my life. Growing up in a Greek household, our family cared so much for each other.  My mom, my dad, my grandmothers (yiayias) my aunts, uncles, siblings, cousins. I know  that I can call any one of my family and they would do anything for me.
Growing up, my mom would go to work from 8am and work until 7pm, sometimes even 10pm or midnight. Growing up we would only see her on nights and weekends. 
While she was at work our two yiayias basically raised my sisters and I. My yiayia would drive every single day to come pick us up from school. She dedicated her entire life to us. 
In the mornings she would grocery shop and cook healthy Greek meals for us every single night. She would drive us to Greek dance practice, Greek school, GOYA (Greek Orthodox Young Adults), and church basketball practices. She literally was there for us no matter what, and would bend over backwards to make sure we were well taken care of. 
When we got sick she would make us avolemono soup, and put a hot towel on our forehead and wrap us up in the giant wool blankets from Greece. 
She would sacrifice all of her time, energy and talents in order for us to be happy. She never asked for anything in return. That is what true agape is. 
My mom, even through she did work a lot, always made a huge effort to be there for us whenever we needed her. She would come home from a long day of work, and would do our laundry for us, clean the house, and would stay up with us for a hours before we went to bed just to catch up on how our day was. 
She always wanted to know every little detail about our life at school, our friends, our hobbies and passions. 
She would listen to be and my sisters complain about what was bothering us at the time. 
She was always there to give her advice and guide us in the right direction. Even though she was probably so exhausted herself, she always make the effort to spend quality time with us each and every day. 
This my friends is an example of true sacrificial love, agape. 
Growing up, my mom would never let us skip one Sunday of going to church. No matter how exhausting our week was, every Sunday morning she would wake us all up, and get us to liturgy on time. She instilled in us a deep love for the Orthodox faith, and would constantly remind us of the deep love that God has for us. 
At the time I was a cranky teenager not wanting to wake up early on a Sunday morning after going out with my friends all night. But nevertheless, she never gave me a choice. I could be severely hungover, and she would get my butt in the car and get me to church. 
Now that I'm married, living on my own, and get to make my own adult decisions; I never forget about those days that my mom forced me go Church. Looking back, I am so thankful that she did. From a young age the seed of faith was planted deep in my heart. 
Going to church was not just about going to a building and reciting meaningless dogmas. For Orthodox Christians, going into the house of God is equivalent to exiting the earth, and entering into heaven. 
The True Eastern Orthodox faith teaches us that when the divine liturgy is taking place, you are in the presence of all of the saint, the angels, and God. These invisible forces surround you. You can not physically see them, but your soul can feel their presence. 
Our language cannot describe the pure feeling of Love that enters into your soul while you are participating in the service. 
When two people get married in the Orthodox church, the Greek language in the service describes that the two people become yolked together as one flesh. 
EROS & PHILIA: 
Now about my husband and I. Our love is defiantly a combination of Eros with Philia; passion and friendship. Angelo and I have such a deep bond of friendship. We can tell each other anything that is on our minds. I can be raw and honest with him. We are constantly trying to make each other better human beings. We challenge each other to eat better, to move our bodies, to keep learning, to grow our business. He always listens to my daily ideas that are changing all of the time. We love to just sit in each other's company. Not only do we share the deep bond of friendship, but we are also passionately in love. Passion is beyond just the physical touch, passion is mental, emotional, spiritual.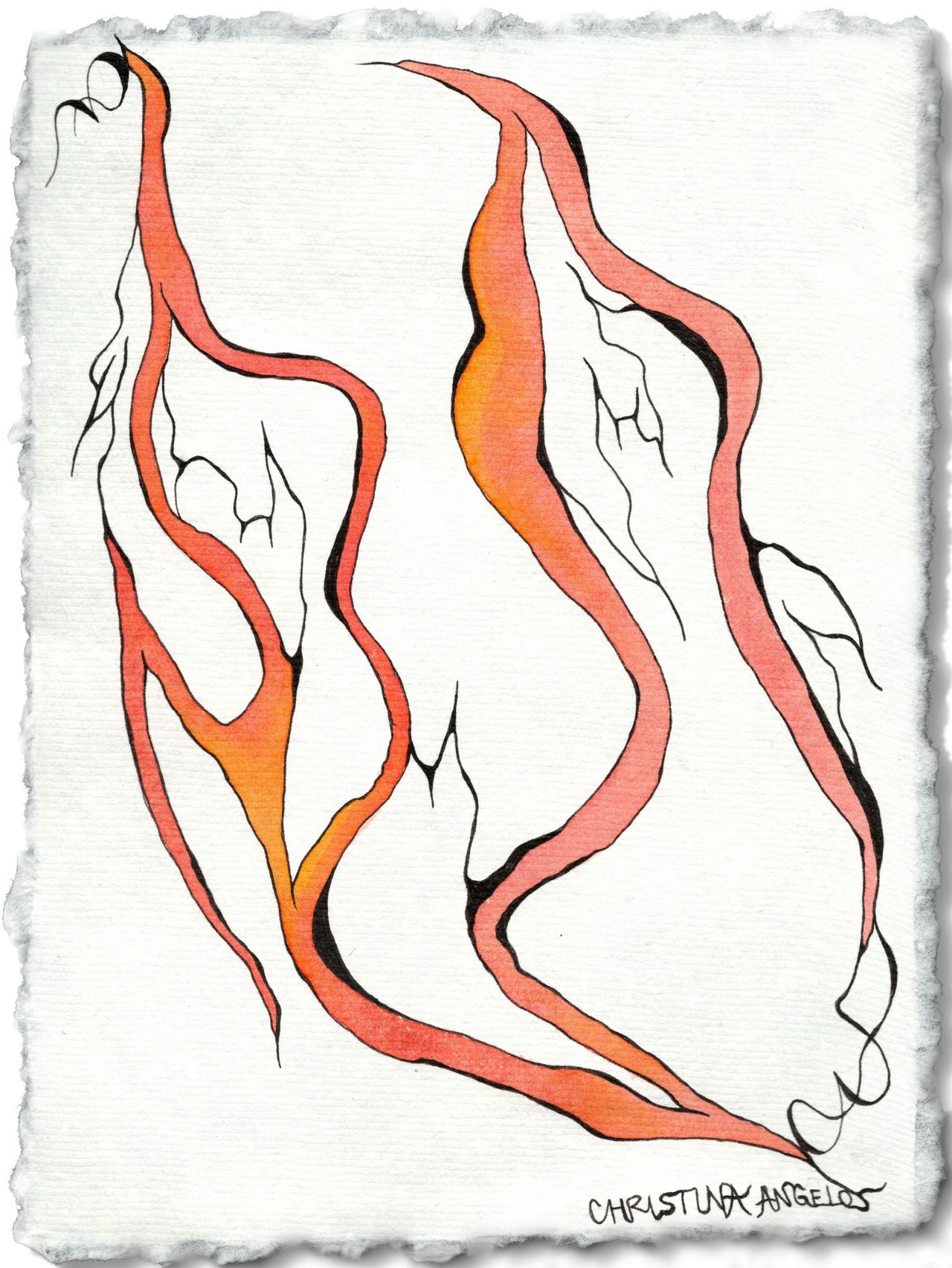 I'm so thankful I found a spouse like Angelo. We are both so uniquely different. We have different interest and hobbies. Angelo loves to hunt, golf, and work with his hands. Meanwhile, I love to make art, cook, tend to my plants and teach. He supports me in everything that I do in life. If I come to him with a proposal for a new idea, he listens to my thoughts and schemes a way to help me succeed.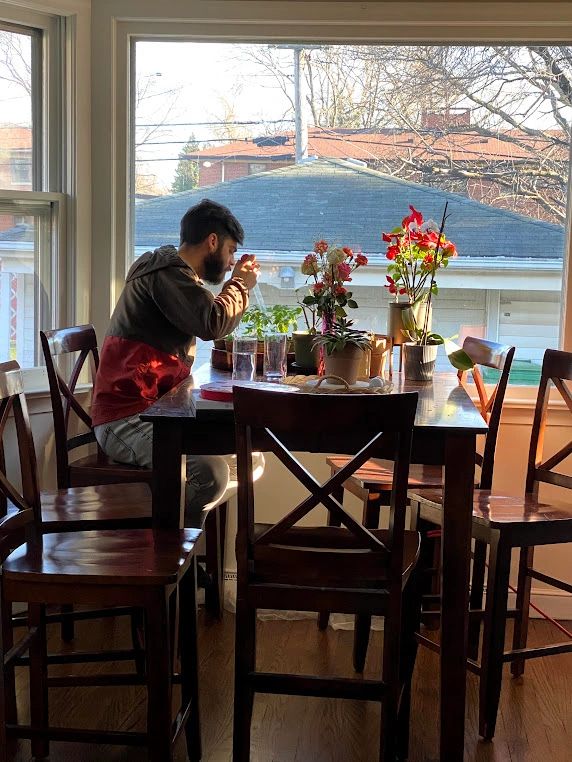 Last spring I started my garden from little seeds. I would water the little seeds on the kitchen table everyday, and watched them grow slowly. 
Day by day, I would water the little seeds with the turkey baster. 
One day when I came home from work I caught Angelo watering my little seeds. It is these little shared experiences that bond the couple closer and closer together. 
Seeing the world through the eyes of your lover, creates such a special bond between the two of you. 
If you have a special some one in your life, your homework is to experience something small together. Maybe that's making a meal together or trying a new activity together. 
Remember friends, it is truly the small things in life that add up to a lifetime of sustained happiness. 
Christ had so much AGAPE for us all that He came down to earth and was sacrificed to save all of our souls. Not because he had to, but out of his true AGEPE for all of us. 
As I go through my day of teaching, I see so many distressed high school students. Filled with anxiety, depression, and a laundry list of issues. Some students come into my classroom and I can see their rebellious spirt right away. They feel lost, uncomfortable, and insecure. They act out in class, get bad grades and have a reputation of being a trouble maker. 
I know that every other teacher probably looks at these kids as a "problem that can't be fixed." 
I, on the other hand, have extreme faith that each child can accomplish anything. When I spot out the "Problem kid" my approach is to treat them like a mature individual, and give them the guidance and support that they are lacking from the other adults in their life. 
I think of Christ in these situations. Christ did not come down to earth to convince the holy people that they needed to be holier. Christ came to earth to bring the sinner to repentance. He hung out with all the "low lives" of society. He befriended the tax collectors and the prostitutes in order to show them the true agape that they were missing from their life. 
Having true agape for someone in your life means that it brings you joy to see the other person happy. You long for nothing else but to see the person you care for get everything they desire from this life.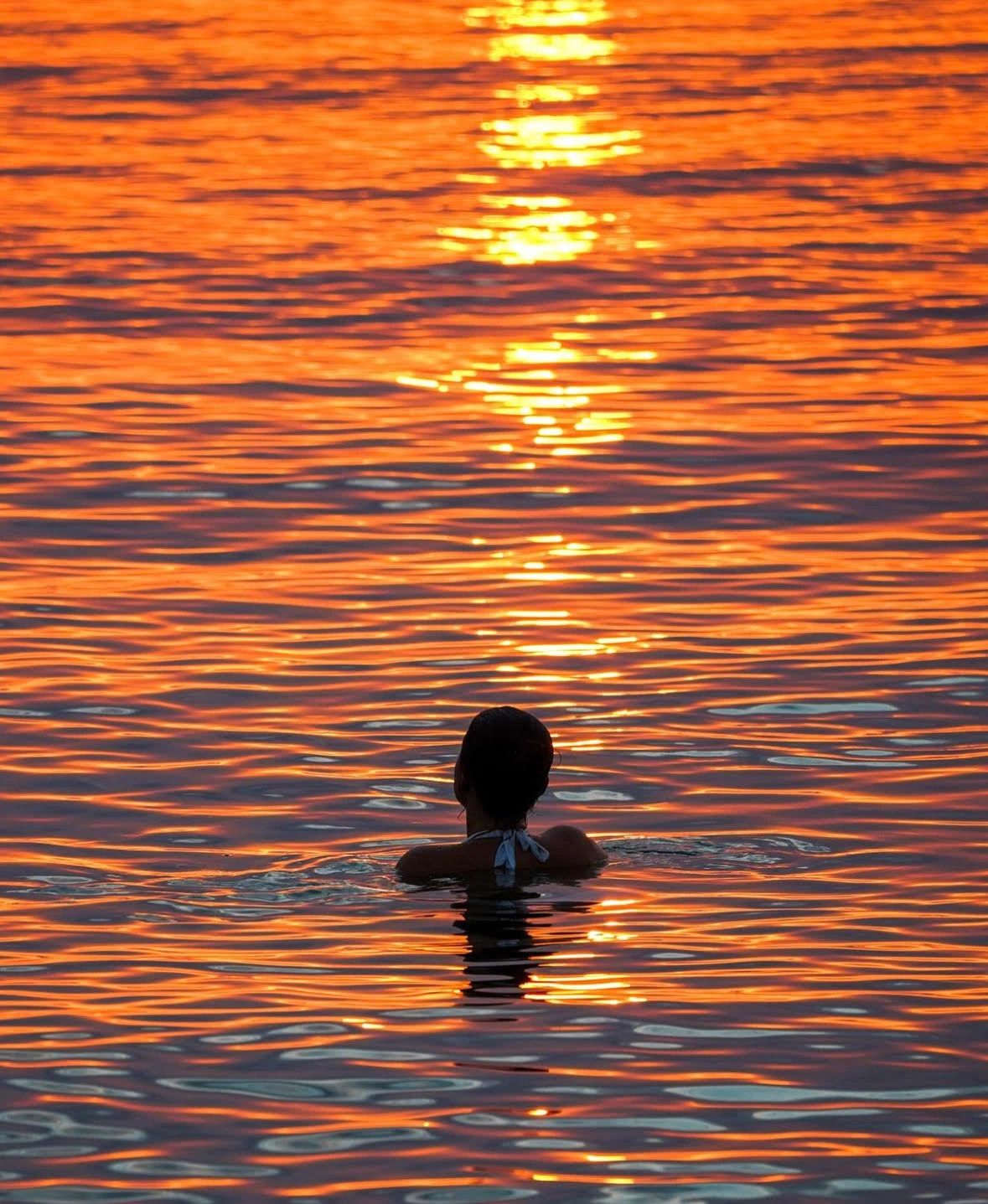 Now for the inspiration behind the ΑΓΑΠΗ series. 
The colors of the series are inspired by fiery magentas, oranges, and yellows of the Grecian summer sunset reflecting on the surface of the water. 
Zoe, a good friend of mine and fellow Grecian artist, captured this photograph while she was in Greece. 
She says, "This poor lady was trying to enjoy a peacful sunset when some crazed girl in a bath robe came flying down from the hotel with a camera pointed in her direction, You do what you gotta do!" 
I am so thankful that Zoe ran down from her hotel room that day and captured this beautiful photograph. It is so hard to capture the majestic beauty of such rich colors in this sunset. But Zoe was able to capture the reflections on the water with such an artistic eye. She centered that woman so perfectly in the center of the water's surface. 
The sun is not even captured in the composition of this image, but the presence of the sun is felt so deeply in this photo. 
Zoe is a freelance artist who does graphic design work, oil paintings, any pretty much anything relating to art. She is also a fellow Greek, who takes amazing photographs of her travels.
Make sure to check out more of Zoe's amazing artwork at https://zococreative.com/
I look at the woman in the photograph, and I go back to my memory of having such a similar experience. Swimming in the Grecian ocean at sunset and feeling the silky waves on my fingertips. Seeing the purple refections on the water's surface. 
Perceiving a sunset like this feels like you are not even on the planet earth, but have transcend into heaven. 
A sunset in Greece like this one, is the most beautiful natural phenomenon one can ever experience. 
As I was drawing the black lines on these paintings, I was trying so hard to draw the connection between these 7 forms of love and the Grecian Sunset. I came up with the analogy that the sun and the water are like two lovers. 
Our souls are like the sun and the ocean. 
My soul is the sun, yours is the ocean. 
The warmth of my rays reflect off of your cool surface. 
Our union creates the most pure and beautiful phenomenon.
Two separate powerful beings, that when combined become the most beautiful unstoppable force in the world - AGAPE
These watercolor and ink paintings are painted in the same style as the "Eudaimonia" Series. A large part of the meaning of Eudaimonia is having love in your heart and soul. Projecting love to your family, friends, co-workers, and even your enemies truly does give your soul sustained happiness. 
Our goal everyday should be to spread genuine love to everyone we come into contact with.  
Having agape in your heart leads to a lifetime of sustained joy and happiness. 
Thank you for reading, and wishing you a lifetime of AGAPE.